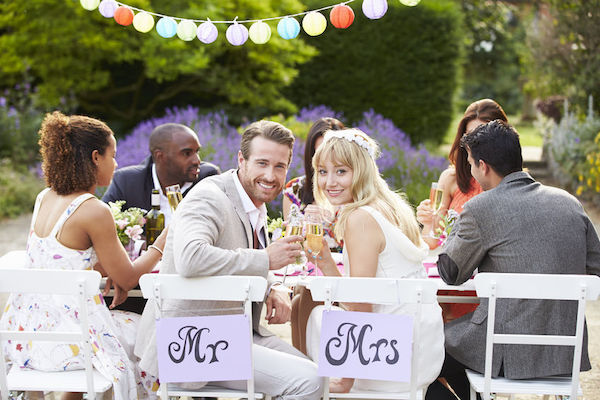 Micro Weddings Are On Trend
Somewhere at the end of 2019, our E'MAGINE Events & Co team started hearing about Micro-Weddings being hot for 2020.
Micro-Weddings are sort of the tiny homes of weddings. Pretty much they are smaller weddings, most under fifty people, where it's all about family, friends, luxury and pampering your wedding guests.
We're already doing Micro Weddings and Intimate Gatherings
When we saw this, we were so excited, we've always called Micro Weddings Intimate Gatherings because we've done both weddings and vow renewals. And, they are some of our favorite events to plan!
We've done these Intimate Gatherings for years. They are about being welcoming and inviting. Intimate Gatherings are about the layering of luxurious linens, unique china and glassware, beautiful floral décor, fantastic food, and great entertainment.
Beyond that, we work with couples to create impressive personalized wedding ceremonies that include people who are closest to them. Many involve writing their own wedding vows and creating ceremony details that mean something to them.
Tameika and Mark's Intimate Gathering
This beautiful outdoor wedding ceremony with incredible views and the reception with its rustic wooden farmhouse tables is one of our favorites.
Textured glass charger plates were set with individual place cards and a single white flower for each guest. The gold rim tied into the gold accents on the glassware and votive candles.
The center of each table was filled with floating candles and glass containers with white roses and calla lilies sitting on shimmering mirrored tiles.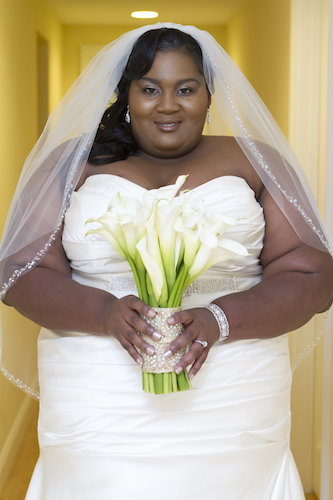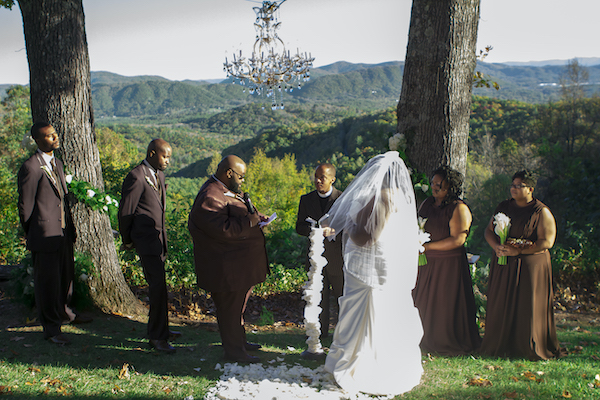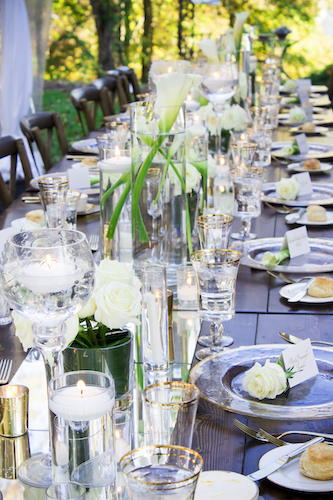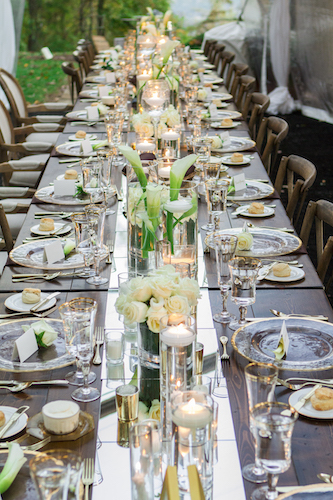 Elmeka and Kevin's Micro Wedding
Back as far as 2013, we created a spectacular intimate winter wedding when Shaunda's BFF Elmeka married Kevin. The Intimate Gathering in black and white with big pops of red was romantic and luxurious.
The hotel's Belgium Glass Conservatory and the falling snow outside were the perfect backdrop for an intimate ceremony and reception.
Chairs were draped in flowing white covers and set against black floor length linen. Black and white patterned table runners were layered with silver charger plates and bright red linen napkins. Arrangements of red roses in crystal vases added luxury and lots of color.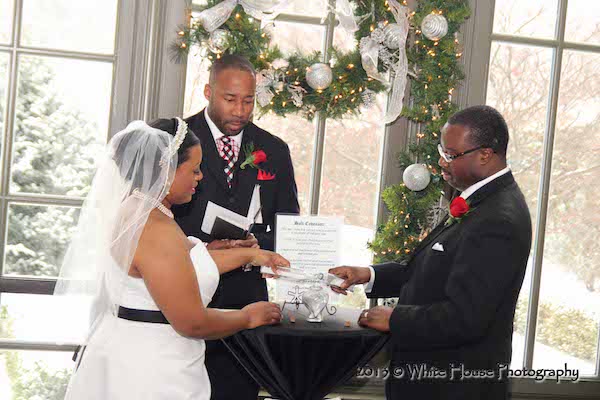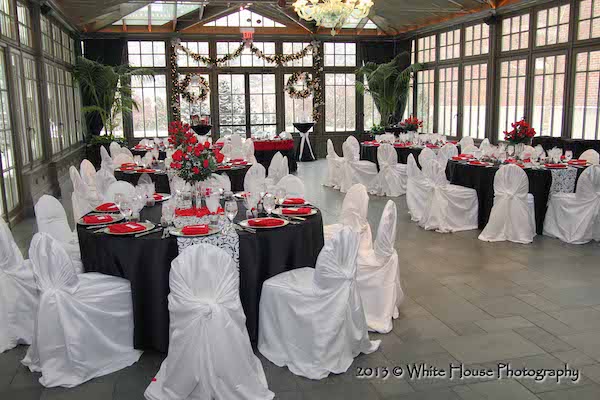 Micro-Weddings and Intimate Gatherings are definitely going to continue into the future. As we start to gather post-COVID-19, we'll be forced to look at weddings with fewer people for a little while.
Intimate Gatherings don't mean you have to skimp on beautiful and personalized details or being surrounded by the people you love.
Our E'MAGINE Events & Co team looks forward to talking with you about your special day and how we can make it the wedding of your dreams.