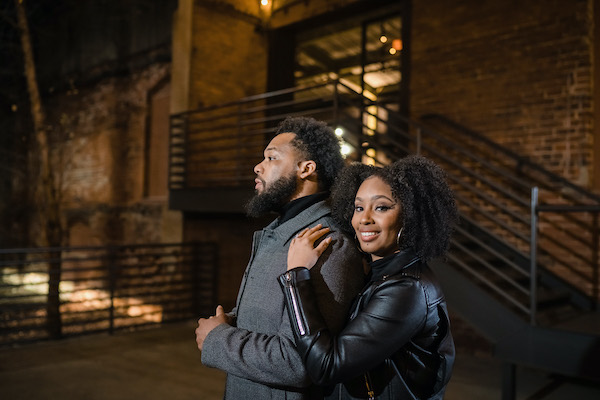 Planning A Special Wedding Proposal in Durham
Our E'MAGINE Event & Co team LOVES engagement season! There's just something about a cute couple and a wedding proposal story that gets us excited. Especially when it's our owner, Shaunda Eggleston, is planning an unforgettable setting for her baby brother Jamel to propose.
Picking A Date
Jamel says Demetria is inquisitive, and it's hard to get anything past her. So, picking a date and keeping her guessing wasn't easy.
He skipped over her December birthday and December 28th – the date they officially became a couple. But, he wanted to be sure to propose while her New York family was in town for the holidays. It was initially supposed to be a Christmas theme. However, with COVID-19 restrictions and a date change until after Christmas, plans had to change.
To keep her guessing, Jamel told her that they were meeting up with a few friends for dinner, and for fun, they were all doing a friend's photo shoot.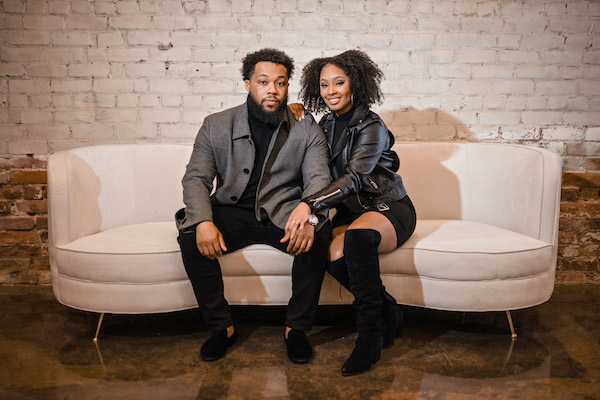 Paris, Cloud Nine and a Proposal
Demetria had always dreamed about a proposal in Paris – obviously, COVID-19 travel restrictions made that impossible. Jamel has always said he's been on cloud nine ever since they met.
The Eifel Tower, TONS of candles, and some well-placed balloons created a Parisienne themed backdrop to make them feel like they were dancing on a cloud.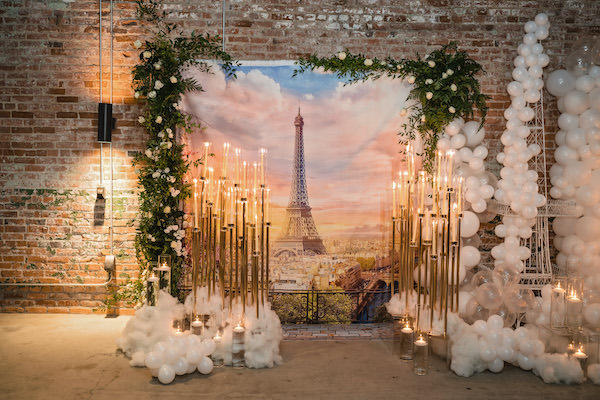 COVID-19 Restrictions and Planning an Event
Our E'MAGINE Events & Co team worked closely with the owner of Beltline Station in Durham. We wanted to make sure we were up-to-date on all of the current North Carolina COVID Restrictions.
We limited the guest list, checked temperatures at the door, and everyone was required to sign a waiver.
With guests and our team all wearing masks, we were able to pull off this romantic proposal. However, because of the restriction, we were not able to serve food or drinks. The couple and family headed out to a local restaurant together. Everyone went home with hand-decorated 'future Mr. and Mrs.' cookies.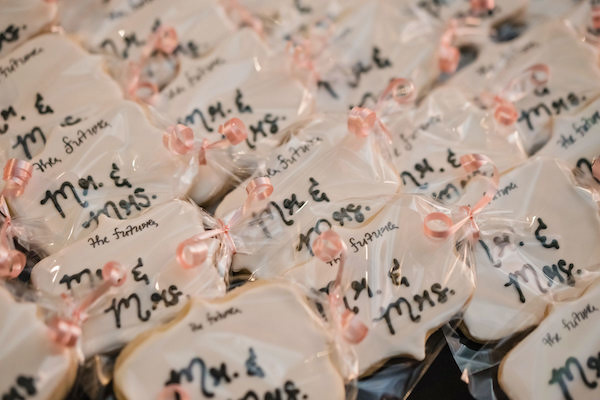 All The Cool Stuff
Demetria and Jamel arrived at the red-brick industrial buildings where Beltline Station is located. The buildings surrounding it were practically empty.
Overhead market lights lead them to the open doorway of Beltline Station. Inside, the long industrial space was dimly lit, and clusters of balloon clouds lined the floor. The room was filled with the sound of Grammy Nominated saxophonist Marcus Anderson. Demetria was speechless!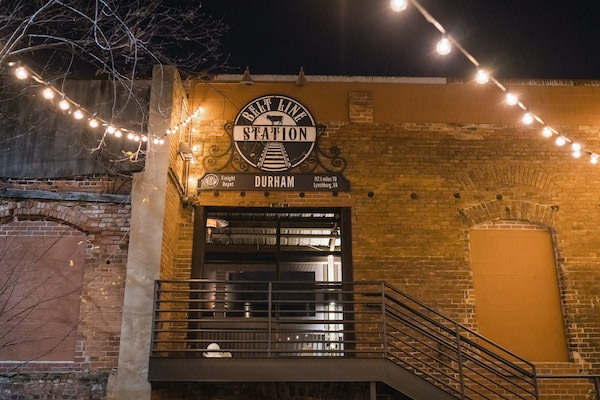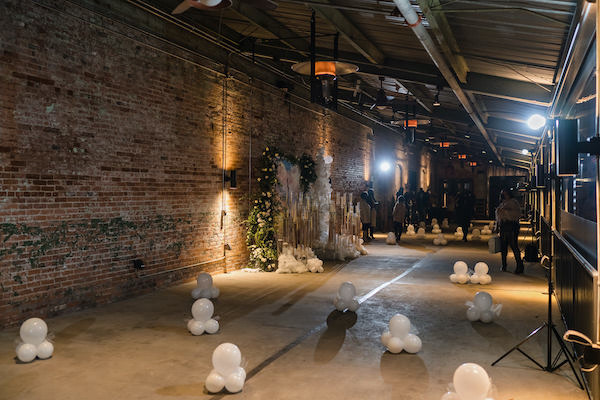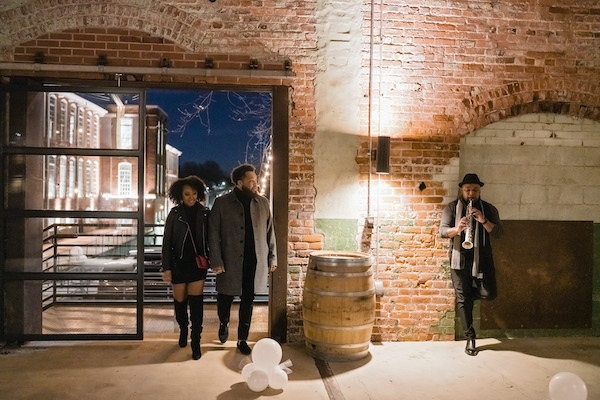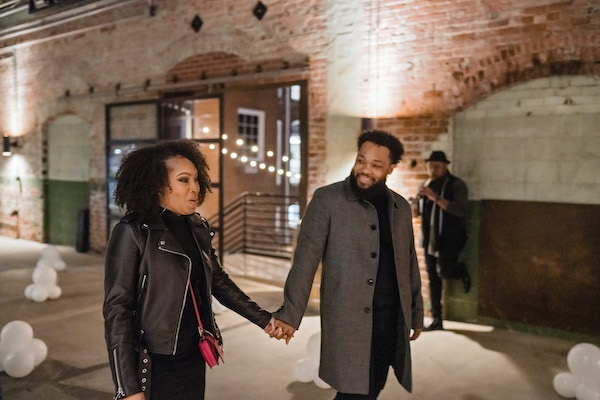 Jamel led her across the room to the Paris themed décor. Our E'MAGINE Events & Co. hung an Eiffel Tower themed backdrop and surrounded the edges with lush greenery and a trail of white flowers. We filled the floor with clear acrylic boxes holding floating candles in glass cylinders on the ground surrounding the backdrop. We added in a trio of gold-toned modern candelabras – they each had more than a dozen taper candles. A white, wire Eiffel Tower was a great addition to anchor white balloon towers, mounds of soft white batting, and hundreds of balloons forming a huge cloud under their feet.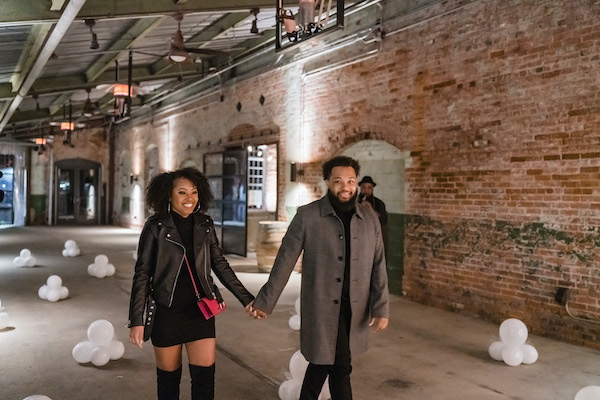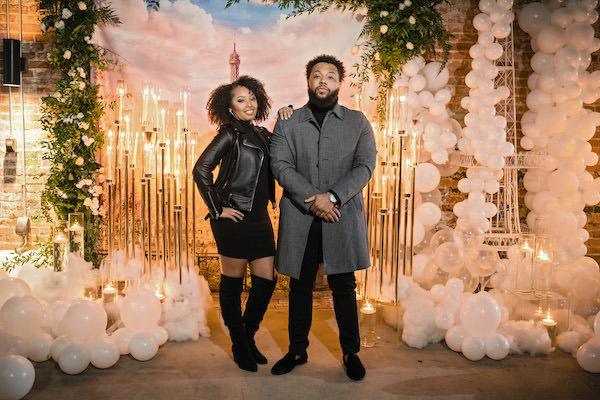 She Said Yes!
We guess you know by now that She Said Yes!
Jamel got down on one knee and popped the question. Since Demetria will be carrying on the Eggleston name, Shaunda ordered a custom-designed keepsake ring box with an E monogrammed on it.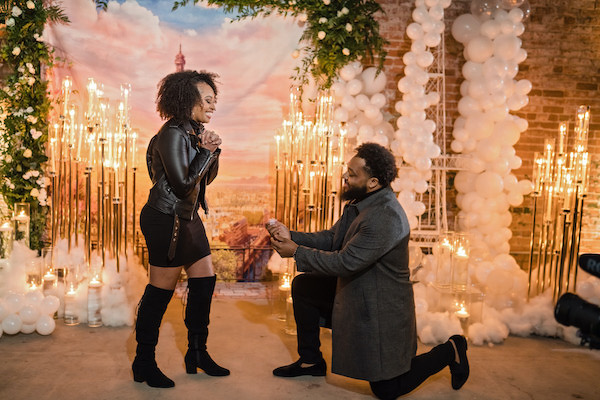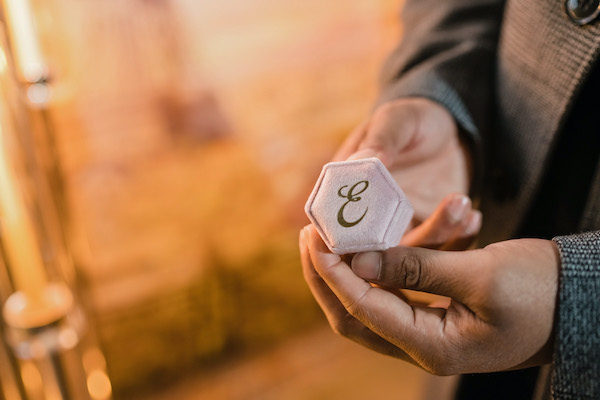 And, with some love and guidance from his sister, Jamel did a fantastic job picking out a beautiful engagement ring for his bride-to-be.
Family members said a few words, and the couple took time for some photos at the station before everyone headed off to celebrate.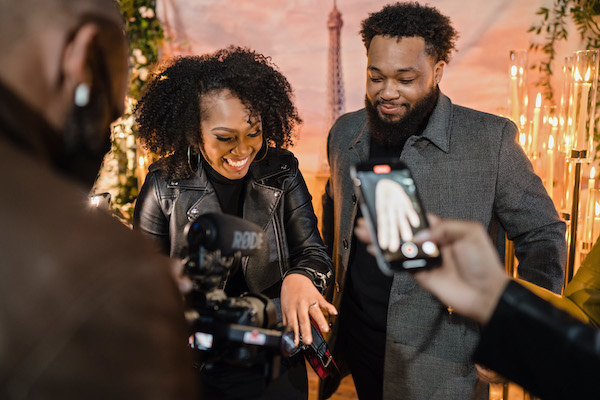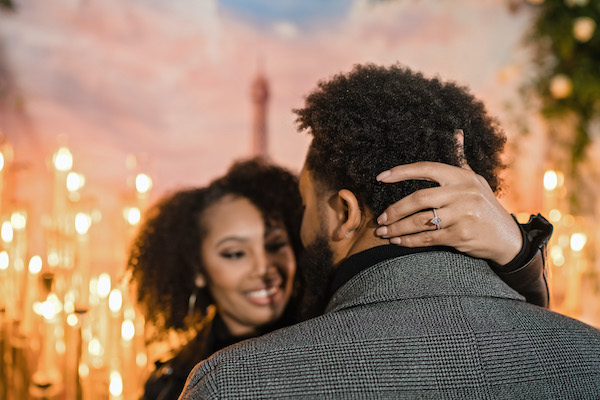 Congratulations, Demetria and Jamel!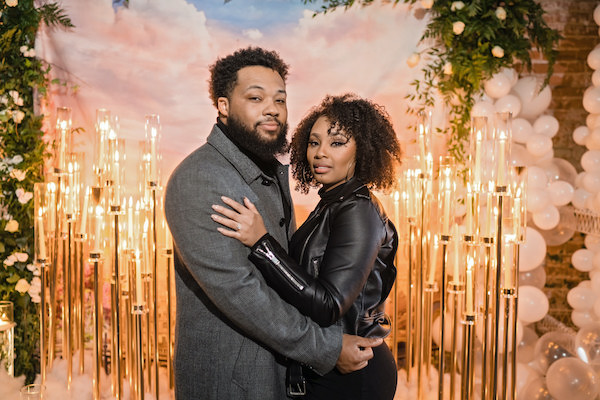 The E'MAGNE Events Team
Thanks to all of the excellent event partners who helped our E'MAGINE Events & Co team make Jamal and Demetria's night so unique.
Planning and Décor: E'MAGINE Events & Co
Durham Event Venue: Beltline Station
Custom Cookies: Magnolia Collective
Photography: In His Image Photography
Saxophone: Marcus Anderson
Videography: Matthew Wardsworth