A Tropical Safari
Our E'MAGINE Events & Co loves a fun party with a great theme, and when it is a baby shower in Downtown Raleigh you know we are all in.
The mother-to-be already knew our team as she had been a bridesmaid in one of our previous clients wedding. We all worked well together following the lead of her vision and color scheme.
The chic tropical safari theme included colors that would make the blue tones pop; perfect for  Baby Headen's Shower.
The stationery and wooden signs were created by Tiffany, a friend of the mother-to-be.
The Safari Squad sign and colorful balloons paved the way for the Party Animals to the festivities. Colorful tropical stationery not only included the shower invitations but several fun games and best wishes for Baby Headen.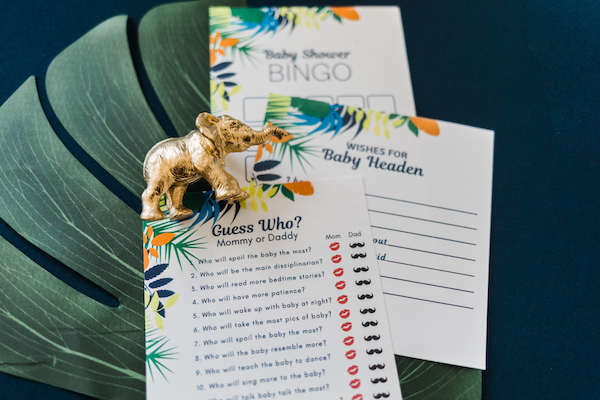 Inside, tropical flower arrangements in gold containers, maternity photos of the mother-to-be and gold animals set the tone for the party.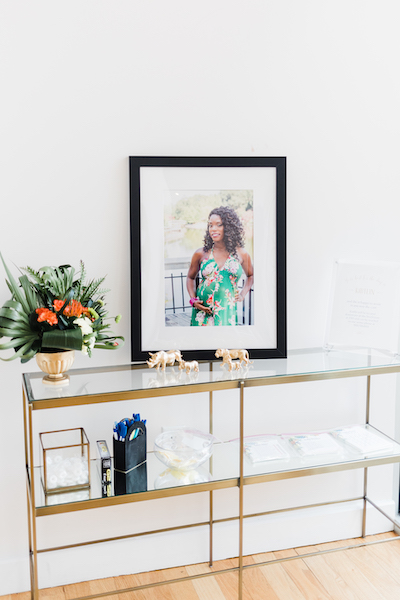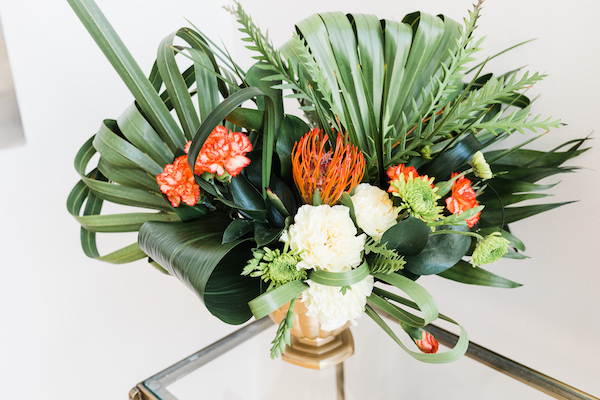 Guest tables were layered in dark blue linen with monstera leaves and sky-blue napkins. Tropical floral arrangements with amazing birds of paradise were surrounded by golden elephants, giraffes and lions.
We love these cute signs created to reserve seating for the parents-to-be, they fit in perfectly with the safari theme.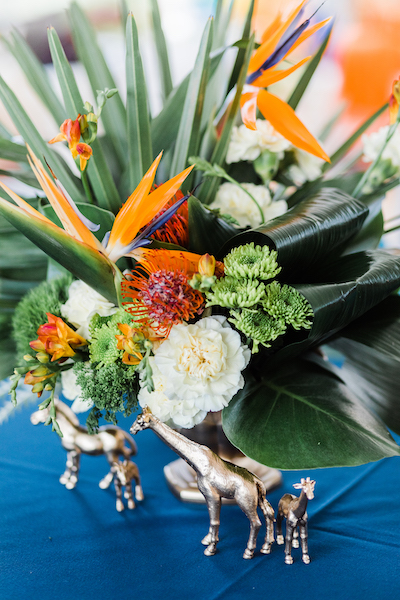 Chef Jessie Scott, the owner of Annie Bells Catering who hopes "to make your stomach smile" absolutely did that with this delicious menu.
Summer Salad
Creamed Cornbread
Smoked Gouda Mac & Cheese
Collard Greens with Smoked Turkey
BBQ Back Ribs
Black Cod with Spicy Tropical Fruit Salsa
Jamaican Jerk Chicken
Key Lime Shooters
An awesome balloon structure in blues, orange, yellow and gold framed a dessert display of chocolate covered strawberries, mini cupcakes, colorful cake pops and these adorable cookies.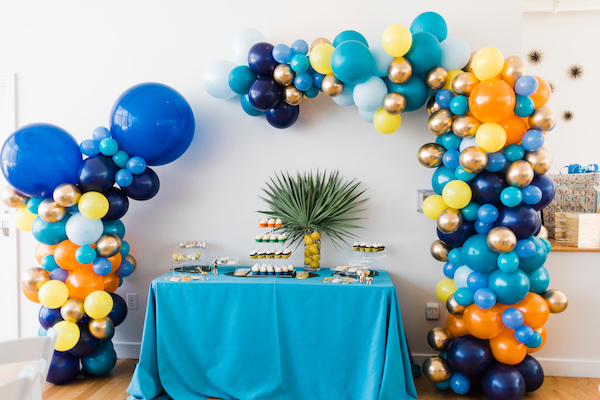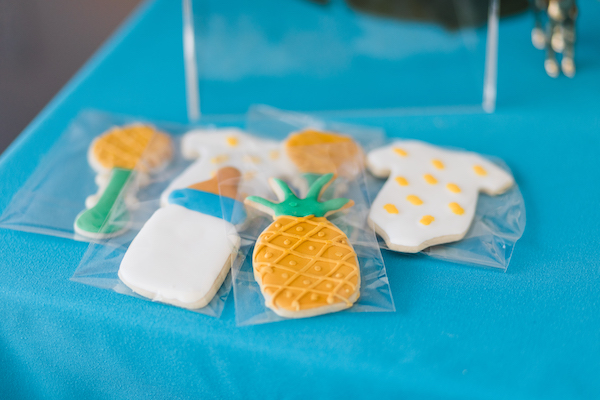 Our E'MAGINE Events & Co loved all of the beautiful and delicious, details. Everything from the linen and floral décor to the balloon arch and gold safari animals created a chic tropical safari vibe.
Congratulations to Mom and Dad!
Thank you to the vendors who created this intimate family shower for baby by Headen!
Baby Shower Design, Flowers and Balloons Structures: E'MAGINE Events & Co.
Photography: Images by Amber Robinson
Linen: American Party Rentals
Event Venue: The Glass Box- The Stockroom at 230
Catering: Annie Bell's Catering
Desserts: CandieCakes Treats & More LLC